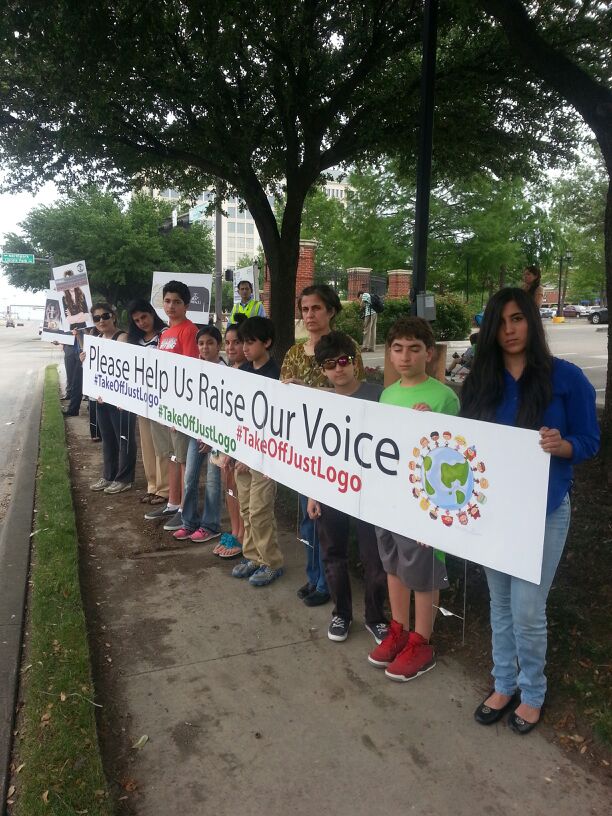 Friday May 23
rd
2014—The big day! The first ever #TakeOffJustLogo rally happened right in Dallas, Texas.
With countless hours of preparation and planning Sufis all over the United States were ready to voice their concern in front of many outside the Roberto Cavalli store by North Park Mall. Hundreds of students travelled on buses and planes to support the local Texans in the fight to stand up to Roberto Cavalli's misuse of the sacred Emblem.
At 5 pm that evening Sufis took to the street with banners and signs in hand with a goal to catch attention. The peaceful demonstration proved a success as many people stopped to acknowledge the crowd, and even caught the attention of local news stations in Dallas as the story featured on TV that very night!!
Being the first city to rally against the Just Cavalli line the group had little expectations with high hopes, but after witnessing the tremendous exposure it received through many sources it has launched a whole new set of rallies in major cities including London, Los Angeles, and New York!
Protestors have noted on Twitter that "We won't stop until the sacred Emblem is removed from the Just Cavalli line" and "Cavalli's silence fuels our fire". With these statements it is expected the demonstrations won't stop anytime soon, and in fact, is the start of something that will rocket into social media all across the world.
If you would like to hold a peaceful demonstration in your area please contact us and we will provide you with the details.