Thursday, 29/05
I was with a friend in London on Thursday showing her around town before getting ready for the demonstrations. Deciding to walk down from Harrods, Knightsbridge, I could already see people in purple T-shirts with the #takeoffjustlogo writing. I could hear them setting up whilst we were making our way down. It usually rains in London, but on that day it rained like no other! Luckily the team came fully prepared with rain jackets, laminated posters and walkie-talkies, including their own marshals, first aiders, and most importantly united and full of energy.
Despite my wet and tired feet from being a tourist for the day, both the demonstrators and public support really woke me up and brought me to life. Support came from all over, whether it was from cars beeping as they drove past, those who stopped to ask for a leaflet, or those entering and exiting the V&A enquiring about our protest. Many approached me regarding the actual logo, in which case I explained to them the similarities. Others simply wanted to know about Sufism; and for some, as you would expect it was just a case of curiosity.
Nevertheless the day was an overwhelming success, with a large increase in petition signatures, expanded twitter followers, and a link established with worldwide press, with numerous new articles published. This was all developed due to an on-going battle with Roberto Cavalli. The designer and company have yet to acknowledge the group.
Saturday, 31/05
I was following both the LA and NYC protests from my twitter account. The NY rally @ Madison and 63rd started a little earlier, with many independent and press accounts retweeting my tweets and those attending the demonstration.
By the time the LA demonstration began I was no longer able to keep track of tweets and to thank media.
As you can see from the pictures taken on Rhodeo Drive, the protesters had formed a link around the fashion district.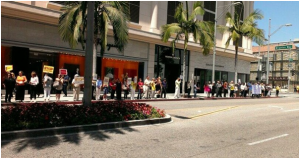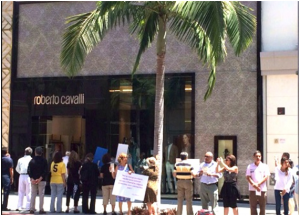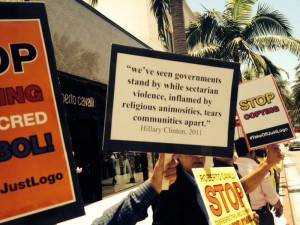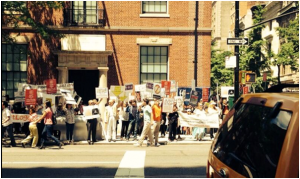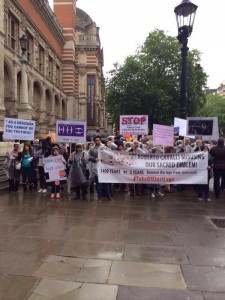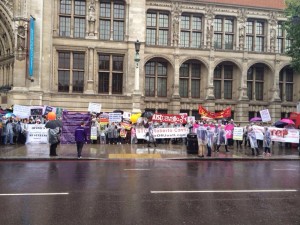 So where to Next? Can we expect more demonstrations in Europe where Cavalli himself likes to travel & party, or perhaps at large department stores? Fashion Capitals? Runway events? Who knows
One thing is for sure: The number of those who are hurt and offended is growing. The outcome of all of this lies in the hands of the fashion giant. The Sufi protests have been peaceful to date and will continue to be so in the future; but the outcome for the Cavalli brand lies in how it will placate the PEOPLE it has offended.
For how long must Sufis be assumed to be a minority within the world? Even if they were, do the rights of the few differ with that of the many? Would it still be right to take advantage of a faith group? Is it right to push their beliefs aside and make yours what's theirs? They too have beliefs and a right to protest.
It is not our fault that with all that money, Cavalli failed to do proper market research, and failed to note that our numbers were in the hundreds of thousands. It is not our fault that profits remain the only concern for companies such as Roberto Cavalli. Despite all the training they provide their staff about customer satisfaction, it almost only counts when money is directly involved. That being said most companies are starting to realise the importance of their public image and the principles on which they stand.
In today's corporate world consumers are forever having trust issues, feeling as if they are simply seen as money transporters.
It would have been nice if Cavalli had at least acknowledged the campaign when it began, or even to do so now. You cannot expect the students to abandon their 1,400-year old faith emblem. So far this has been a one way communication battle.
I guess, for now, we can just save the date.
To be continued…