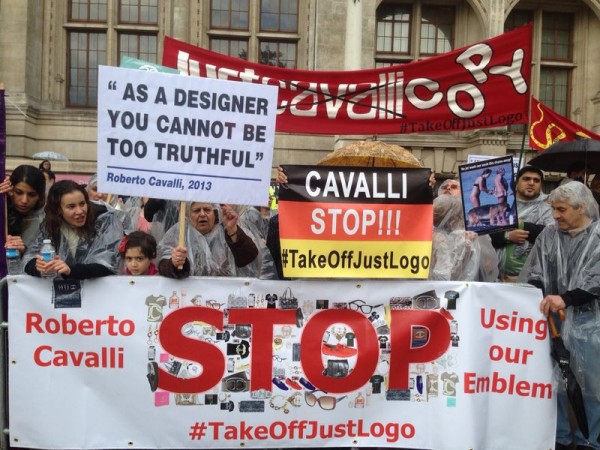 Thursday, 29th May: After weeks of planning with the assistance of SufiRights, hundreds of MTO students joined together outside London's famous Victoria & Albert museum to stage a peaceful demonstration, raising awareness – whilst expressing their concern – of Roberto Cavalli's use of a Sacred Sufi Emblem for his JustCavalli logo.
Roberto Cavalli was scheduled to give a talk on creativity in fashion at that location; but not to a single person's surprise, the Italian fashion designer cancelled the talk, claiming to be too unwell to travel. This, despite being spotted enjoying himself at a yacht party in Cannes prior to the event.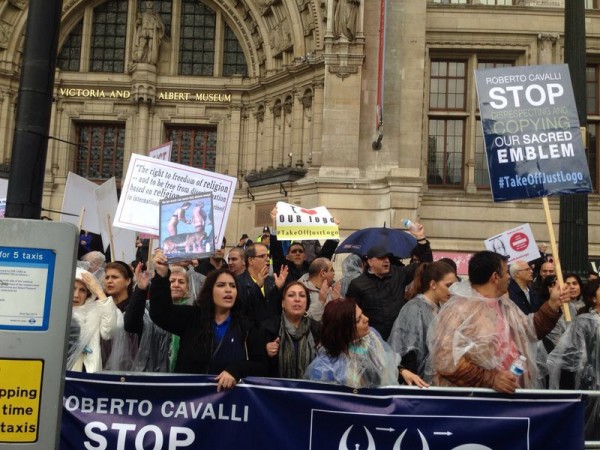 Neither Cavalli's absence nor the pouring rain and hail were enough to deter the Sufi students from having their voices heard.
Young and old, protestors included students from the UK and neighbouring European countries, including France and Germany. UK attendees had travelled from Birmingham, Newcastle, Leeds and many other major cities to help raise awareness.
Angry at the Italian designer's dismissal and silence of their campaign; the peaceful yet passionate protesters filled the atmosphere on this wet Spring day, chanting, raising their voices and demanding justice for their sacred emblem and the sanctity of their faith.