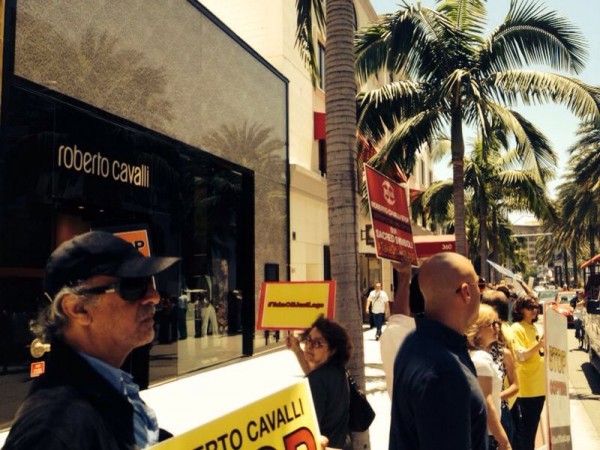 | | |
| --- | --- |
| Date: | May 31st, 2014 |
| Time: | 11 AM to 3 PM (UTC-08:00) |
| Location: | Beverly Hills |
The demonstration in Los Angeles on Saturday, May 31st was an inspiring experience with remarkable community support, to say the least. For those of us from the San Francisco Bay Area, our journey began at midnight on the 31st as over 60 of us gathered, prayed, and began our journey to Beverly Hills. For others, who came for as far as Phoenix, AZ and Vancouver, BC, the trip was even longer.
We had a hard time finding a place for breakfast because of our sheer size, but we finally found a place and they were kind enough to let us fill the restaurant with our group. After fueling up, we proceeded to the rally point where we met up with the local students. No sooner had we arrived than the locals began asking about the protest and signing the online petition on our iPads.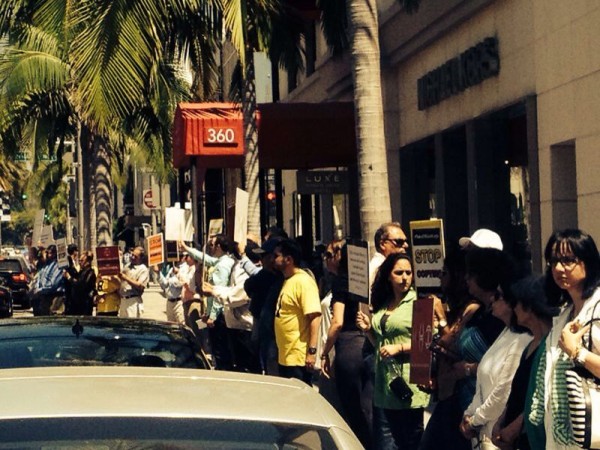 About 350 students gathered to protest at Rodeo Drive in Beverly Hills, which is recognized worldwide as a sort-of Mecca of luxury goods. The pun is intended–after all, the topic of this day's protest was the misuse of an sacred Islamic emblem, which has been trademarked by the M.T.O. Shahmaghsoudi School of Islamic Sufism since 1987. Our group of students feels that the original message and meaning of the emblem has been distorted to represent lust and materialism.


The atmosphere on Rodeo Drive was intense; imagine the 82 (F) degree California sun beaming down on a crowd of outraged, offended students showing no signs of overheating or fatigue, standing in solidarity for hours outside the boutiques of the biggest names in luxury fashion, including that of Roberto Cavalli, shouting chants such as "Roberto Cavalli, Take Off Just Logo" and "Our Logo is our Hope, your Logo is a JOKE."
The locals, as well as the tourists, were equally intrigued by our chants, and despite the gravity of our concerns and the severity of our outrage, the Beverly Hills police department, who had monitored our demonstration from the beginning, were completely satisfied with our demonstration; in fact, they were nothing short of amazed at our organization, discipline, and passion, and noted that it was the best demonstration they had ever been to.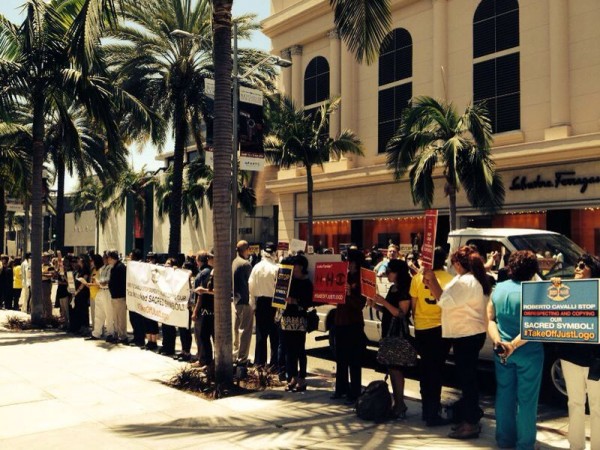 If you would like to host a demonstration and voice your concerns about corporations misusing the sacred emblem, please contact us.