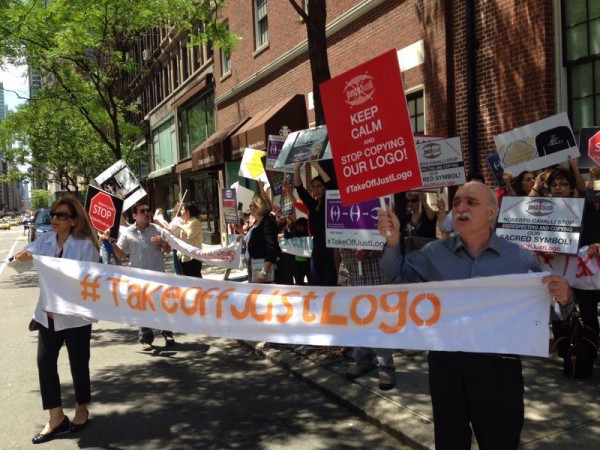 On the last day of May 2014 a group of concerned but hopeful Sufi students gathered in New York City to re-claim their spiritual emblem from the so-called "fashion designer" Roberto Cavalli. This rally took place as other Sufi students around the globe had recently done the same to ensure the world is aware of the issue they raise about Cavalli's decision to infringe on their sacred emblem.
At noon, the large and incredibly vocal group of Sufi students began their rally in front of Cavalli's store on the corner of 63rd Street and Madison Avenue in the heart of New York City by shouting "Let's make an impact, give our logo back." As New Yorkers passed by and observed the rally a few volunteers handed out flyers that explained the cause and goal of the rally.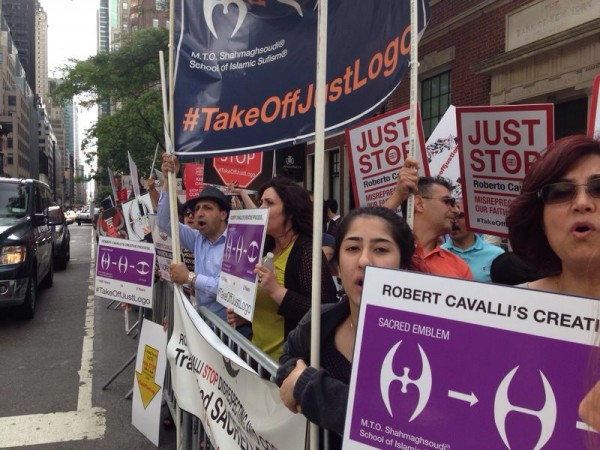 The upset and offended participant of this rally were those Sufi students residing in the greater New York Metropolitan area, but amazingly there were those who had traveled as far as Virginia, Georgia, Massachusetts and even Toronto just to be a part of this rally. This rally fascinated the attention of hundreds of people who passed by and once they heard about the rally's cause, they were shocked that a fashion designer would so utterly disregard respect for a large religious community by copying their registered logo.
The rally ended three hours later and protesters finished their demonstration by chanting "see you soon" meaning that if Cavalli does not take action to correct his mistake, they will be back soon. They promised to be a louder, larger and even more determined group to defend their faith.
Contact us for more information and if you would like to host a rally in your city.
Together as members of humanity, we will not accept Roberto Cavalli's disrespect and misrepresentation of sacred symbols.