Sufism students have been preparing for a peaceful protest on May 29th outside the V&A museum where Roberto Cavalli was supposed to deliver a speech as part of The Glamour of Italian Fashion 1945-2014 exhibition.
Thousands had tweeted regarding the matter and the demonstration was just aimed at gaining press attention for their campaign against the brand. The Just Cavalli logo has offended hundreds of thousands worldwide, as it resembles a sacred faith emblem. The demo was booked a month ago and by coincidence as due to a recent surgery Mr. Cavalli's "doctors have said that he cannot travel for the next few months". How do we know about this cancellation ?Well that's the interesting part.



Sufi Rights, which is an independent group whose aim is "Safeguarding the rights of Sufis in today's corporate climate" received a tweet regarding the cancellation. Why would a body that does not tweet Mr Cavalli, his company or the museum receive this random tweet?
Later the V&A whom were previously "convinced of his arrival" declared that he would not attend and the section from the website was removed. All the above is clear political scandal and is what establishes doubt in this generation, doubts towards people, policies, brands, establishments including museums. An organizer from the protest said they had spoken to the museum yesterday and confirmation of his arrival had been given including details of how the talk had been sold out. It is not the first time that money takes over and faith groups are belittled. Not only is this offensive to those that view him as a fashion icon but also gives you just a glimpse at how the company handles situations. If the man had been ill in which case I wish him good health, then why was he partying in Cannes a few nights ago? If he was unable to travel then how was he in Florence this morning? I am extremely disappointed with the V&A and once again Roberto Cavalli.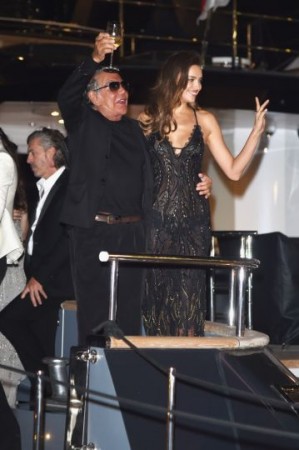 We will not stay silent and with or without your arrival tomorrow we will raise our voice against all that is wrong with big corporations. You might avoid us here in London for some short time but hundreds will still be attending The Glamour of Italian Fashion exhibition which ironically are interested in fashion, something we can all relate to here. Theft (of logo), dishonesty (V&A) and belief; at least two of three of these concerns will inspire others to sign our petition and help us in achieving our aim.